Social events are an important part of every conference, as they provide an ideal platform for networking outside of the boundaries of the busy session schedule.
Civic Welcome Reception
Monday 11 May 2015, 18:00–19:00
The reception, which is sponsored by Glasgow City Council and hosted by the Lord Provost (City Mayor), will take place at the City Chambers in George Square, 5 minutes walk from the conference venue.
Built in 1888, a time when Glasgow was the second city of the British Empire, the City Chambers is an impressive building containing the height of Victorian oppulance. It has been the seat of local government in Glasgow since it was built, and holds the Council Chamber.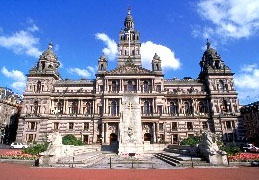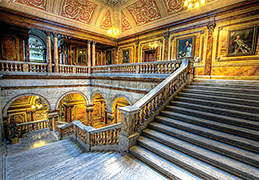 Ceilidh at The University of Strathclyde Students' Association
Monday 11 May 2015, 19:15–late
After the civic reception, we will adjourn a few minutes walk up the hill to the Students Union, for a ceilidh hosted by the Student's Association. One of the most vibrant venues in central Glasgow, delegates will become guest members of the Association for the evening, and will be able to party as the Scots do. A ceilidh is a party with Scottish dancing - no experience necessarry, as instructions will be provided!


Conference Banquet at Kelvingrove Art Gallery and Museum
Tuesday 12 May 2015, 18:00–22:00
The highlight of the conference, the Conference Banquet will take place in the Kelvingrove Museum. Attendees will be picked up by buses at the TIC at 18:15 and brought to the museum, where they will be invited to tour the gallery, and enjoy a meal and a special performance by the University of Strathclyde Concert Band.
Kelvingrove first opened its doors to the public on 2 May 1901 and is world renowned for the quality of its international art collection which includes Impressionists and Italian and Dutch Renaissance paintings. Without question the Art Gallery houses one of Scotland's finest civic Art collections. The museum has over 8000 objects on display, and is the most visited in the UK outside London.
The ever changing contemporary exhibitions compete for your attention with the dinosaurs, suits of armour, frightening weaponry and treasures from throughout the world. Guests will get an opportunity to view the exhibits in private prior to and after the banquet. View a video introduction or take a digital tour here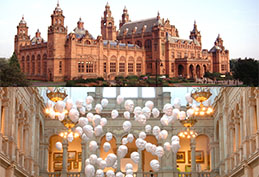 VTS Members Reception
Wednesday 13 May 2015, 17:00–18:00
A drinks reception will give VTS members at opportunity to meet the Board of Governors and give input on the running of the Society. It will be held on the top floor of the TIC, Level 9. The reception is for VTS members only - remember to pick up and wear your Society Member ribbon when you register to allow entry to the reception.