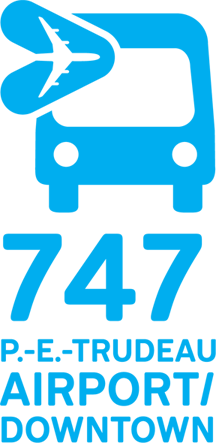 The most convenient way to reach the conference venue from the airport is the 747 Express Shuttle bus. It is operated by the Montreal public transit authority (STM). It runs 24/7, with an average of 20 minutes between buses during peak hours. Travel times are between 45 and 60 minutes, depending on traffic.
The cost for one ticket is CAD 10; tickets are available from vending machines in the airport terminal (international arrivals area), with payment in cash, by debit card or with VISA or MasterCard credit cards. Tickets can also be purchased from the driver when boarding the shuttle bus but ONLY with exact change (no bills).
The Shuttle has a bus stop at the corner of René Levesque and Mansfield, which is one block or a 4-minute walk from the conference venue, the Bonaventure Hotel (see map below). You can simply ask your bus driver to drop you off at this stop, or let her/him know that you are going to Bonaventure Hotel.
More information: http://www.stm.info/en/info/networks/bus/shuttle/more-about-747-aeroport-p-e-trudeau-centre-ville-shuttle
Detailed Schedule from the airport: http://www.stm.info/en/info/networks/bus/shuttle/line-747-east